PRODUCT INTRO | SENSE-U BUNDLE (EN)
Breathing, Rollover, Temperature, Video & Audio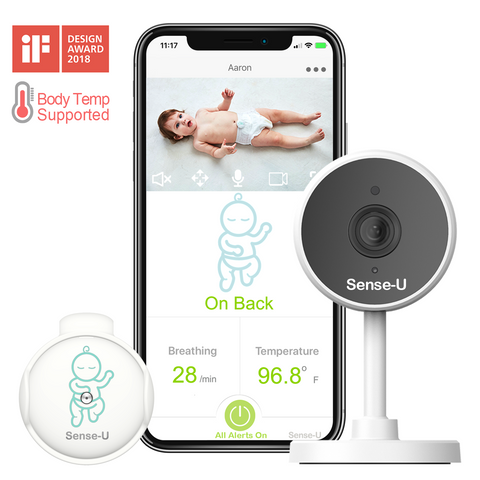 A COMPLETE BABY MONITORING SYSTEM FOR COMPLETE PEACE OF MIND
The Award-winning Sense-U Baby Breathing monitor and the All-New Sense-U Video baby monitor allow you to see your baby's breathing, sleeping position and temperature while streaming HD video from anywhere.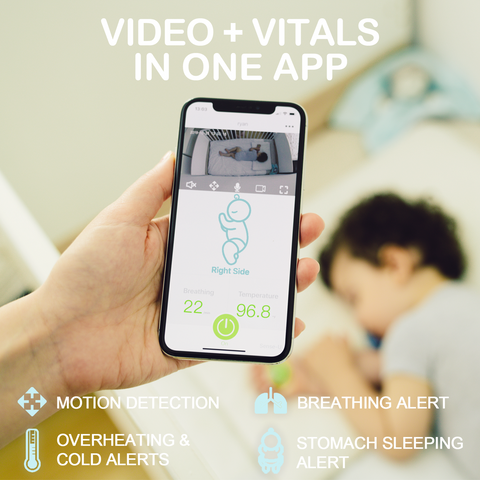 KNOW YOUR BABY'S VITALS WHILE STREAMING HD VIDEO & AUDIO
Monitor your baby's breathing, rollover and temperature while streaming HD video and audio to your Sense-U Baby App, available in Apple Store. (Android App is coming soon!)
1080P HD VIDEO WITH NIGHT VISION & SECURE WIFI
The Sense-U Video's 1080p High-definition video lets you see your baby clearly, anytime, from anywhere. Sense-U comes with enterprise-level security and AES 256-bit encryption which is the same standards used by hospitals.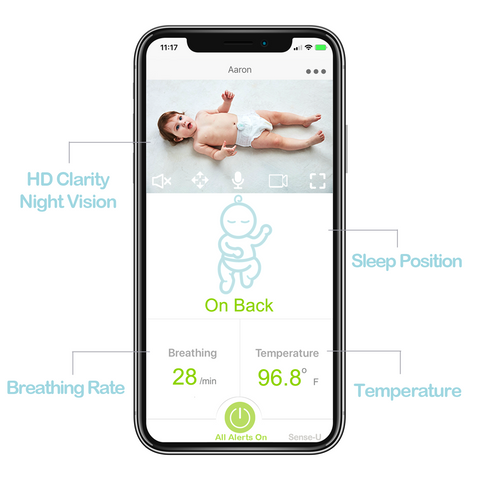 GET AUDIBLE NOTIFICATIONS WHEN SOMETHING HAPPENS TO YOU BABY
With the Sense-U baby breathing monitor clipped around baby's belly button, the Sense-U App notifies you with audible alarms for detected motion, weak breathing movement, stomach sleeping, overheating and getting col from your smartphone. It provides you complete peace of mind.
OUR PROMISE
Love it or return within 30 days for a full refund, making it a great gift for baby registries and showers or as a gift to new parents. 
COMPATIBILITY
The Sense-U Baby Monitor needs to work with the Sense-U Baby app on Apple iOS. The Sense-U app is available on Apple Store. 
Supported Apple Devices(iOS 9.0+): iPhone 5 & up; iPad 3rd Gen & up;

Supported Android Devices(4.4+): Samsung Galaxy: S6 & up; Note 4 & up; HTC One M8; HTC One; HTC 816, LG Nexus: 4, 5, 6; LG G3, Sony L36h.
* One smartphone can only connect to one paired Sense-U device at a time.
USER MANUAL
(English)
WEARING INSTRUCTION  (Breathing Monitor)
Snap the Sense-U baby monitor into the ring of the clip accessory, then attach the clip accessory onto diaper to the full extent of the clip. Make sure the Sense-U baby monitor is close to baby's tummy around the belly button area, and the baby silkscreen is in the same direction as baby's body position to avoid false breathing alarms and wrong sleeping position readings.
*Avoid sandwiching clothing or other material between the clip/ring accessory and the sensor device. It may break the accessory and introduce false alarms at your own risk.
NEW ARRIVALS
If you have connection issue with your Sense-U Baby, or are interested in more Sense-U products, please visit www.sense-u.com.